Info
Hours
Unknown
Helpful Links
About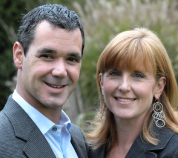 Dr.Steven Jacob and
Joey Jacob      
The Center for Wellness
Dr. Steven Jacob has owned and operated Health Options since January 2000. It was originally located on Church Street in Guilford, with one other practitioner.

In 2003 Health Options moved to the Post Road where it was expanded to 5 practitioners.

In November 2009 Dr. Jacob and his wife Joey purchased the historic Jonathan Starr building and spent several months carefully renovating and restoring it to what is now Health Options Center for Wellness. The center has 12 practitioners.

Our Mission at Health Options is to provide a nurturing environment, a wide range of talented practitioners with a high quality of services which promotes physical, emotional and mental health.

The state registered historic building that Health Options now occupies is located in the beautiful downtown historic district of Guilford, Connecticut. It was built in 1732 by Jonathan Starr. Jonathan received the property as a gift from his father Comfort Starr, whose home still stands across the street from Health Options. The Starr family member that first came from England in 1635 was a doctor.

The building still maintains much of its original beauty and charm. Steven and Joey have worked tirelessly to create a warm, comforting environment that is felt both inside the building and in the surrounding gardens that will expand and grow in beauty year after year.